Eddie Japan + Kingsley Flood
Thirsty Moose Taphouse

21 Congress St, Portsmouth, NH
(view map)
BRING THE MYSTIQUE | If the name EDDIE JAPAN sounds like some noirish '80s cult crooner your older sister listened to in college, you've fallen right into their trap. The sound of the Boston six-piece, formed in 2007 by David Santos, falls somewhere between the baroque stylings of Jacques Brel and the dark energy of Sisters of Mercy. In other words, they're a little like the Smiths with a trumpet. The band's lush, moody machinations play out at the Thirsty Moose with rock-Americana band and fellow Bostoners KINGSLEY FLOOD. 9 pm at 21 Congress St. in Portsmouth, NH. 603.427.8645.
powered by
performers

Eddie Japan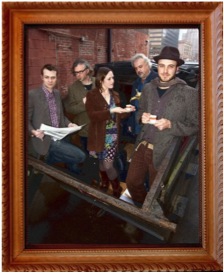 Coming out of Boston, Kingsley Flood knows "Americana" music isn't a cliché world of cabins, hollers and 'shine—but songs about ordinary people's challenges set to...
---
---
More Events at Thirsty Moose Taphouse
No Upcoming Shows Scheduled.