Eilen Jewell + Sweetback Sisters
Chocolate Church Arts Center

DIFFERENT JEWEL | For blues of a more contemporary sort, fans should seek out the artist EILEN JEWELL, who fuses her songs with rockabilly dynamics and the poetic insights of modern folk artists like Jolie Holland and Gillian Welch. Jewell, from Boston, plays with the Brooklyn swing nostalgists SWEETBACK SISTERS at the Chocolate Church Arts Center, 804 Washington St. in Bath. 7:30 pm, $15-18. 207.442.8455.
powered by
performers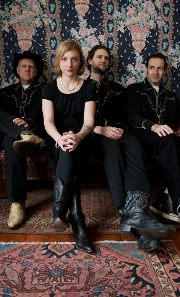 Eilen Jewell is an American singer-songwriter, currently based in Boston. Her music is a mixture of Americana, country, folk and other styles that she has...

Sweetback Sisters
---
---
More Events at Chocolate Church Arts Center
No Upcoming Shows Scheduled.