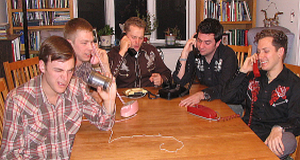 Girls, Guns & Glory
website: http://www.myspace.com/girlsgunsandglory
Girls Guns & Glory are able to explore a variety of sonic concoctions under the guise of Americana. Their country twang mixed with the genuine sentiment of folk captures the attention of all listeners who can appreciate a catchy, yet thoughtful tune. While adding influences of rock, bluegrass, and rockabilly to country's greatest attributes, Girls Guns & Glory adroitly capture what has long been viewed as country music's biggest contradiction: toe-tapping sorrow.
Similar Artists: Rizdales, Long Gone Lonesome Boys, Red Meat, Phil Lee, Dennis Jay
No Upcoming Shows Scheduled.
Related Articles

Portland Phoenix
Three Day Threshold take pride in roots
Published 1/26/2009 by BARRY THOMPSON
The undiscovered country
Portland Phoenix
Official Dispatch from the 2008 Boston Music Awards [VIDEO]
Published 12/8/2008 by Chris Faraone
The Subaru limousine – which I assume belongs to Ernie Boch, Jr. (nominee: Outstanding Bl...
Portland Phoenix
And The Boston Music Awards Winners Are...
Published 12/8/2008 by Chris Faraone
We're hard at work over here putting together photo, video, and good old written

Portland Phoenix
Retro, active
Published 10/29/2008 by CHRIS CONTI
The return of Von Doom

Portland Phoenix
2008 Rock N' Roll Rumble
Published 5/1/2008 by BARRY THOMPSON
Girls, Guns, Glory and Gall at Harpers Ferry, April 25, 2008
[

05/21

]
open mic
@ Thirsty Moose Taphouse
On the Download
BLOGS
[Q&A] KMFDM's Sascha Konietzko on art, Columbine and having balls
On The Download
| March 18, 2013 at 3:22 PM
SXSW 2013: The Punk Singer
March 14, 2013 at 2:08 PM
Post-NRMAL: Five music discoveries from the Monterrey festival
March 13, 2013 at 1:23 PM
Weekly Playlist #21: New Hampshire edition with the Migs, Betty Nico, Howling Boil, Pleasure Gap
March 12, 2013 at 3:05 PM
[from the gut] The female rock musician's perspective, featuring Speedy Ortiz, Earthquake Party, Fat Creeps, and the New Highway Hymnal
March 11, 2013 at 3:29 PM

More:
Phlog
|
Music
|
Film
|
Books
|
Politics
|
Media
|
Election '08
|
Free Speech
|
All Blogs