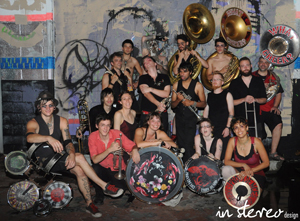 What Cheer? Brigade
website: http://whatcheerbrigade.com
The WHAT CHEER? BRIGADE is a rowdy 19-piece brass band that combines a punk rock ethos and the mobility of marching bands. We play Luddite hardcore – loud, fast music that reclaims public space and requires no electricity. We are a party band, and our sound incorporate elements of musical traditions such as Bollywood, Balkan, New Orleans, samba, and punk…and that's just the short list. Providence-based record label Anchor Brain (Chinese Stars, Six Finger Satellite) is going to be re-releasing our debut "We Blow, You Suck" What Cheer? Brigade is a raucous live experience. Examiner.com says, "I guarantee you if you ever go to a What Cheer? show you will lose at least 5 lbs from the sweat and dancing that will take over your psyche, blowing your mind into smithereens." Since 2005, we have played bars, clubs, libraries, trees, cemeteries, weddings, bus stops, farms, and playgrounds. We've played everything from small community events in Providence to a collaborative performance with Dan Deacon at Lollapalooza and large festivals in Europe. We have shared stages with musicians such as Man Man, Japanther, Dengue Fever, Okkervil River, Lightning Bolt, Ninjasonik, Mika Miko, Wolf Parade, Matt and Kim, DJ Scratch, Slavic Soul Party, and Chain and the Gang.
No Upcoming Shows Scheduled.
Related Articles

Portland Phoenix
From Punky to folky to sultry and more
Published 12/21/2012 by CHRIS CONTI
Hear, here
Portland Phoenix
It's Boobstock time
Published 10/5/2012 by PROVIDENCE PHOENIX MUSIC STAFF
Plus, the Spot moves on and more
Portland Phoenix
Head to The 'Gansett Block Party
Published 9/14/2012 by PROVIDENCE PHOENIX MUSIC STAFF
Hi, neighbor!

Portland Phoenix
Rolling into Rocktember
Published 9/7/2012 by CHRIS CONTI
Festival season isn't over yet

Portland Phoenix
Joey gets to work
Published 12/9/2011 by DAVID SCHARFENBERG
Labor Relations
On the Download
BLOGS
[Q&A] KMFDM's Sascha Konietzko on art, Columbine and having balls
On The Download
| March 18, 2013 at 3:22 PM
SXSW 2013: The Punk Singer
March 14, 2013 at 2:08 PM
Post-NRMAL: Five music discoveries from the Monterrey festival
March 13, 2013 at 1:23 PM
Weekly Playlist #21: New Hampshire edition with the Migs, Betty Nico, Howling Boil, Pleasure Gap
March 12, 2013 at 3:05 PM
[from the gut] The female rock musician's perspective, featuring Speedy Ortiz, Earthquake Party, Fat Creeps, and the New Highway Hymnal
March 11, 2013 at 3:29 PM

More:
Phlog
|
Music
|
Film
|
Books
|
Politics
|
Media
|
Election '08
|
Free Speech
|
All Blogs