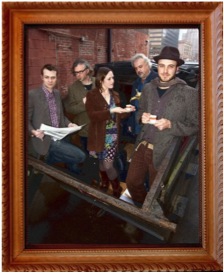 Kingsley Flood
website: http://kingsleyflood.com
Coming out of Boston, Kingsley Flood knows "Americana" music isn't a cliché world of cabins, hollers and 'shine—but songs about ordinary people's challenges set to tunes that resonate. Meshing the personal and the political with a true fiery, country-city sound (call it "post-Americana"), Kingsley Flood draws as much from Woody Guthrie and the Band as it does Joe Strummer and the Replacements. Not that frontman Naseem Khuri set out to change the world as a musician. For that, he went to grad school, prepping for a fancy career in international relations. But afterwards, as he fought cynicism towards bureaucracy and politics, he found himself writing songs that shared all the insights and stories he couldn't express in an office job— maybe a single voice, plus some harmony, could make the most noise. Maybe playing in a rock and roll band was the most honest work he could do. Reflecting Khuri's own hopes and fears, the almost literary songs explore finding your place in a world of haves and have-nots through the lens of a community of characters. In "Roll of the Dice," a narrator "born in a house you see on tours" struggles with privilege behind a spaghetti Western guitar riff. In "A Little Too Old," an old man reflects on taking the easy road over a sighing fiddle. The sweeping chorus of "Cul de Sac" might distract from its story of a dogmatic neighbor with an eye to the ground. The songs came together in 2009, when Kingsley Flood retreated to rural Vermont to record its debut, Dust Windows, with engineer/producer Pete Weiss. Like its characters, the album perhaps longs for a simpler time, capturing a scruffy, slightly rough-around-the-edges sound: part country, part Beat poetry, part rock and roll. The band joins classic instrumentation—fiddle, banjo and mandolin—with offbeat contributions from toy organ, trumpet and even some peepers from a nearby swamp. Dust Windows will officially be released April 3, 2010. The band formed when Khuri recruited then-roommate Nick Balkin on bass, and local drummer Will Davies, with his shuffling, behind-the-beat style. Michael Spaly found the trio in a Somerville dive bar and insisted on sitting in with his fiddle, mandolin, and electric guitar. After he moved back to his native Seattle, the band— often augmented by trumpeter Chris Barrett—rounded out its lineup with veteran Boston guitarist George Hall and fiddler Jenée Morgan.
No Upcoming Shows Scheduled.
Related Articles
Portland Phoenix
Kingsley Flood declare new Battles
Published 2/1/2013 by JONATHAN DONALDSON
Cellars by Starlight

Portland Phoenix
A spectrum of sounds warms up Boston's winter playlist
Published 12/28/2012 by MICHAEL MAROTTA
Portland Phoenix
Off the Couch: Twist and crawl
Published 3/30/2012 by PROVIDENCE PHOENIX MUSIC STAFF
Tallahassee, Scarce, and more!
Portland Phoenix
[phlipcam video] Kingsley Flood live @ Converse, 348 Newbury St. in the Back Bay
Published 12/8/2011 by Michael Marotta
Last night in the Back Bay, rising roots sextet KINGSLEY FLOOD kicked off our new
Portland Phoenix
MP3 of the Week: Kingsley Flood "Black Boots" + introducing the Converse in-stores
Published 12/1/2011 by Michael Marotta
"Uptown's gonna go downtown tonight!" It's equally a plea, a promise, and warning from vocalist
[

05/21

]
open mic
@ Thirsty Moose Taphouse
On the Download
BLOGS
[Q&A] KMFDM's Sascha Konietzko on art, Columbine and having balls
On The Download
| March 18, 2013 at 3:22 PM
SXSW 2013: The Punk Singer
March 14, 2013 at 2:08 PM
Post-NRMAL: Five music discoveries from the Monterrey festival
March 13, 2013 at 1:23 PM
Weekly Playlist #21: New Hampshire edition with the Migs, Betty Nico, Howling Boil, Pleasure Gap
March 12, 2013 at 3:05 PM
[from the gut] The female rock musician's perspective, featuring Speedy Ortiz, Earthquake Party, Fat Creeps, and the New Highway Hymnal
March 11, 2013 at 3:29 PM

More:
Phlog
|
Music
|
Film
|
Books
|
Politics
|
Media
|
Election '08
|
Free Speech
|
All Blogs