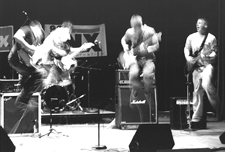 Jeremiah Freed
website: http://www.jeremiahfreed.com
How did a rock band from the small working town of York, Maine, score two local radio hits and a major label deal less than two years after graduating from high school? Let's review: While their classmates were sweating SAT prep work, Joe Smith, Nick Goodale, Matt Cosby, Jake Roche and Kerry Ryan spent the late '90s studying the classics-Zeppelin, Aerosmith, Skynyrd and The Who. The young group learned their old school lessons well-especially the part about foregoing fashion statements in favor of the fundamentals. At night, they burned the midnight oil, practicing and writing freewheeling rock songs into the wee hours, then road-testing the tracks at any hole-in-the-wall that would have them. By the time they graduated in June of 2000, the quintet-a.k.a. Jeremiah Freed-had already secured management and a fervent following that stretched from Boston to Portland. The kids were most definitely alright. Jeremiah Freed's talent and unapologetic love of heartfelt rock & roll comes through loud and clear on their self-titled major label debut, due out on March 26th. The album bristles with effortlessly arching melodies, sing-along hooks and solid, punchy guitars. The band plays and writes with a maturity well beyond their years, crafting melodically gripping songs that cut right to the emotional core. Read about Jeremiah Freed in the Portland Phoenix: The Beat Report and This Just In.
Similar Artists: July For Kings, Familiar 48, Synthetic 16, Echo 7, Dakona
No Upcoming Shows Scheduled.
Related Articles

Portland Phoenix
Lightning strikes
Published 1/22/2010 by SAM PFEIFLE
Weather the storm with Roy Davis's third LP
Portland Phoenix
Multi-faceted
Published 7/17/2009 by SAM PFEIFLE
Shardlow and Goodyear and a brand-new studio
[

05/19

]
Still
@ Portland Lobster Co
On the Download
BLOGS
[Q&A] KMFDM's Sascha Konietzko on art, Columbine and having balls
On The Download
| March 18, 2013 at 3:22 PM
SXSW 2013: The Punk Singer
March 14, 2013 at 2:08 PM
Post-NRMAL: Five music discoveries from the Monterrey festival
March 13, 2013 at 1:23 PM
Weekly Playlist #21: New Hampshire edition with the Migs, Betty Nico, Howling Boil, Pleasure Gap
March 12, 2013 at 3:05 PM
[from the gut] The female rock musician's perspective, featuring Speedy Ortiz, Earthquake Party, Fat Creeps, and the New Highway Hymnal
March 11, 2013 at 3:29 PM

More:
Phlog
|
Music
|
Film
|
Books
|
Politics
|
Media
|
Election '08
|
Free Speech
|
All Blogs